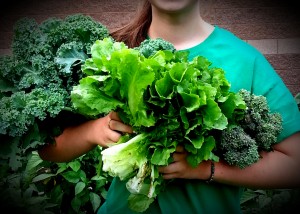 "There's a radical – and wonderful – new idea here… that all children could and should be inventors of their own theories, critics of other people's ideas, analyzers of evidence, and makers of their own personal marks on the world. Its an idea with revolutionary implications. If we take it seriously." — Deborah Meier
Anyone who knows me knows that I love what I do, even on the "hard days". The reason why might surprise some though. Yes, I get to deal with good food and that is awesome! But it is so much more than that. I get to meet the coolest people – people that inspire me, just by simply being themselves. This week was no exception.
A couple months ago I heard about a girl that wanted to be vegan. Her (really great) parents decided to support her by reaching out to make sure she was doing it in a healthy way. I was impressed by the amount of research she had done and her spot on food choices for good health. After offering my input, I didn't think too much about it. Until her mother announced that Tehya had started a blog to help inform others about being vegan. This caught my attention, and I decided I wanted to meet this trailblazer. Earlier this week, Tehya took time out of her school vacation to meet with me and talk about being vegan, her new blog, and life as a preteen.
What struck me most when I first met Tehya was her energy. She is confident, articulate, and has an ease about her that can make anyone feel comfortable and welcomed. As a matter of fact, I could have stayed and talked to her for hours – I could hardly believe an hour had passed when we were leaving. Like most 12 year olds these days, Tehya has a very full schedule – she is a ballerina, pretty serious violin player, a girl scout, and she just finished up a performance in the play Peter Pan. Unlike most of her peers, however, Tehya was using her internet to research being vegetarian. Never really being a fan of meat, last April she decided to become vegetarian. While her friends and family were all supportive, one friend joked about her becoming vegan, but that was not where Tehya saw herself at the time. That is until she was googling for recipes and came across a Youtube video. That video led to more researching. Seeing what was on the internet about animals and farming sealed the deal for her. The images and information, as she says, is scary. The transition went pretty smoothly, Tehya relayed that she is the type that just dives right in and does things 100%, and if you met her you would have no doubts this is true! It wasn't all smooth sailing though, finding replacements for all those preteen party favorites was tricky as well as being able to know ingredients. But it is the school lunch that has proven most difficult, she now has to make sure she allows time to pack a lunch because even the salads at her school contain meat and cheese.
Knowing that 12 year olds can sometimes be mean as they are all learning their place in the world, I asked if she gets teased for her lifestyle. Genuine shock filled Teyha's face, as she replied that "no, kids aren't really like that at my school." Kudos to the school staff there! Farther on in our conversation, I asked Tehya if she wanted to be a writer. Despite her great communication skills, becoming a writer was not her intention. Instead, Tehya's face lit up as she talked about two of her peers that she eats lunch with every day. They have special needs and were eating alone. Tehya really enjoys her time with them and has decided that she would like to be a special education teacher.  It came out in our conversation that now this particular lunch table is so full, the adult paired with the students has to stand during the lunch. It occurred to me that perhaps no one teases Teyha because she is a natural leader and is highly respected by her classmates.
"Rather than standing or speaking for children, we need to stand with children speaking for themselves. We don't need a political movement for children… [we need to] build environments and policies for our collective future." — Sandra Meucci
We finally got to the question I had been anxious to ask – "Why start a blog?" Tehya kind of laughed it off as she described what led to the idea of a blog. She recalled family car rides where she would be "spewing facts" and she realized she could be telling more than just her family. (Who still eats meat). She would tell other adults, but felt that adults don't really think kids know what they are talking about and don't really take kids seriously. She would tell her friends, but being young as well, if they lacked the support of their parents then they had no control over food choices. She also recognized that when trying to search online, so much of the information is scary it can be overwhelming especially for kids. She wanted to create a blog primarily for other kids where she could share what she knows in a safe space. Amazing! I asked Tehya if she knew what this was. "It is empowerment. Youth empowerment."  Some young people need to be taught this, shown how to take back the power of their voice. Teyha has claimed it on her own. That is what leaders do. She doesn't see it as special, she is just "That Vegan Kid" that loves animals and wants to improve her health and the the health of the Earth. I urge you, even if you are not vegan, to follow this girl. We could all learn from her. She is going places and I for one would like to have a front seat for the ride!
---