Want to Change The World? Start With the Power of One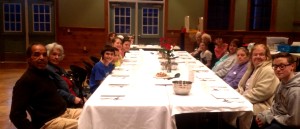 Valued
Productive
Accepted
Special
Important
Significant
and above all else, Loved.
Who doesn't want to feel these things? They are, what many would argue, necessary to human survival in much the same way as food and water. While food and water nourish the physical body, love and acceptance is what nourishes us mentally and spiritually. As a young, growing company our Board of Directors and myself have been trying to narrow in on what really defines us, in which direction will we move forward with so much work that needs to be done. I have always been a big picture person and a doer, both a blessing and sometimes a curse. It is good because I bring energy and passion as I see the ultimate end goal so vividly in front of us and I will work tirelessly to get there. It is a curse because there are so many branches within that big picture, it is easy to get lost in the tangled mess, spread too thin,never able to reach that goal. This week, however, helped to clarify and open my eyes to what I already knew – change happens in individuals, each individual that we nourish physically, mentally, and spiritually, then spreads it along the branches, broadening the reach and lessening any one person's burden to create change. The moment I rediscovered this, I felt the weight of the burden lift allowing me to pour all my energy into the few programs we already have and to know that it is enough. The passion of the Board and myself will  shine through and ignite others, the love will spread naturally, and the world will become better one community at a time.
I know this because this week I witnessed it happen, right before my eyes. One of our programs, Jr Chef began as a way to empower kids to make positive food choices by teaching them how to cook and have fun with food. With food, you are able to bring in concepts such as culture, creativity, science, math, reading, and teamwork. To also work within our mission, it was decided that there would also be a community outreach component to show the chefs that their skills have the power to heal, express love, and bring people together.  On week one of this six week session, we talked a lot about how food is used to express love, the importance of sitting with others at a table, and how every culture places great importance on food. I asked them to think about ways they, as a group, could use what they learn over the next few weeks to give back to their community. On week two, we were still getting to know each other and many were too timid to share their thoughts and ideas. One chef suggested cooking for a senior citizen, because "sometimes they can't get to the store to get food ". That sparked a long discussion about the obstacles that many senior citizens in the community face in terms of healthy eating. I pointed out how lonely it must be for many to eat alone every night. "Why can't we have them all eat here with us?" suggested one enthusiastic chef. What a great idea! While we would love to extend them all an invitation, I suggested that each chef create one invitation and the senior center will help us decide who would benefit the most.
Each week, while the chefs continued to build their skills, they discussed menu ideas until they were able to agree on Chicken Piccata, Twice Baked Sweet Potatoes, Roasted Vegetables, and Upside Down Pear Cake for dessert. Some chefs were feeling hesitant about the seniors coming – it was a lot of pressure and some had never socialized with the senior population. I was nervous too, Would we get it cooked and served on time? What if a recipe goes wrong? How will I keep the conversation flowing and make everyone comfortable? Pretty much all the thoughts you have prior to hosting any dinner party. After much anticipation and planning, the night had finally come….
Keep in mind our class is only two hours long. In that two hours we needed to prep, cook, clean up, set tables, and eat. Yikes! But the chefs rose to the occasion, working seamlessly together in three teams to complete all the recipes, cleaning as they went. Some of the seniors were so excited about the invitation, they arrived 1/2 hour early. Instead of getting nervous, the chefs greeted them, helped them get a name tag, showed them to a seat and quickly got back to work. They handled themselves with such grace, even when one team was running behind. The dinner was on the table ten minutes late, but that was ok. The seniors were sitting together, getting to know one another as they admired the composure of the young chefs. Each senior was escorted to the table by a chef, at which time the teams explained their dish and helped to serve everyone. It was at this time that I reminded myself to take in the moment fully. I looked around the table. Each chef smiled with pride as they talked about their dish, while the seniors smiled back because they were made to feel so special. Our table was big, with 20 people seated around it – it felt like a big family reunion with story telling, laughter, and moments of quiet while everyone took in the food. I saw a light come on in every face at that table, a light that can only be described as love. It was important for the chefs to be able to make a difference in another person's life – to know that this is something that they can do every day, and always get back far more than they gave. It was important for the seniors to feel important, valued, and loved. I am sure they will be talking about this evening for a long time. It may have only been twenty people around that table, but imagine if each of those twenty people gave a similar experience to twenty more people and so on….
So go ahead, invite someone to your table, nourish their body, mind, and soul. Watch that love spread and know that you ARE changing the world!
---