Building Sustainable Healthy Communities Together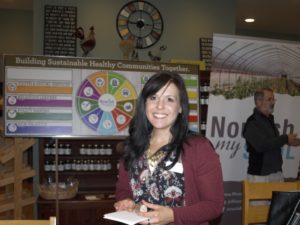 "I know there is strength in the differences between us. I know there is comfort, where we overlap."
― Ani DiFranco
On Friday, November 4th Nourish My Soul held a gathering with community stakeholders to brainstorm how we can build healthier, sustainable communities together. It was done, of course, around a dinner table at a local farm. Clark Family Farm at Bushy Hill Orchard provided us with the perfect setting to our discussions and their chef, Hazen Sturtevant, created an incredible local feast for us to enjoy. The idea for this gathering came to us at a board meeting one evening in the Spring when I expressed my frustration at how slow it is to build partnerships one by one, always trying to connect with like minded individuals, groups, and organizations while still finding time to actually DO the work. It is hard. And each new introduction leads to another new and exciting introduction. It is wonderful, but inefficient. That was when I blurted out that I just needed everyone together in the same room at the same time so we could then move forward. Having the incredible board that we do, a team of visionaries and doers, they took that statement and ran with it. It made perfect sense to us, but would others be willing to give up their time to join us? Lets face it, if you can't get the right people to come to the table, then it is a lot of effort and money spent without achieving the goals you hoped for.
We worked to create a balanced and diverse invitation list that included policy makers, community investors, non profits, social and youth services, food services, health care providers, educators, farmers, and religious leaders.  We sent out invitations to over 75 partners in our community and held our breath to hear how they would respond. Honestly, we were hopeful that we could get 20 people to the table – let's face it we are all over committed and unless something is REALLY important to you, it is likely not going to make the cut. We had 40 people RSVP  yes! and out of the remaining 35, twenty one wanted to remain engaged and regretted they had other obligations that evening. That means that over 80% of those invited are invested in this work. That is so exciting to me, just to know that we have that kind of support for something we are so deeply passionate about.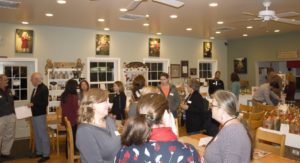 Leading up to the event, we sent out carefully curated videos and reading material to provide background and showcase other community driven responses around the country. This gave everyone something to spark their creativity ahead of time so we could dive right in. The people that came were ready, excited, and full of ideas and questions they want to explore. I wish we could have remained in the moment longer than our 2.25 hours because this is the environment in which I thrive the most – a room filled with intelligent, creative, passionate, and caring people sharing ideas, digging deeper into issues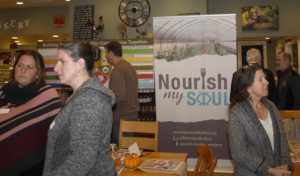 , and collaborating. It proves to me that when people can come together to look at a problem, and bring their unique perspective, discuss it over a meal, magic will happen. All the goals that looked so large when facing them alone, now look achievable with the army we are collecting. We focused on needs and strengths of what we each brought to the table, which while we reviewed and worked to organize this information as a board it really struck me  – what we have done is build an effective means of communicating how we can each make one another stronger and more effective. Isn't that what we should all be doing in every aspect of our lives? When I make you stronger, it works to make me stronger as well. So while so much out there is working to divide us, I am energized by the work we are embarking on to make 2017 a year where our community is sustainable, healthy, and united. We will be posting updates of our collaborations and partnerships in the coming weeks, stay tuned!  Please let us know if you would like to join us in this effort, we are always looking for stakeholders, volunteers, and of course we can't do any of it without financial support. Thank you all for reaffirming to us that this work matters!
---