Foodie Friday; Gluten Free Apple Pie Crepes
This week we launched our Fall session of in person classes for both Jr Chef and Growing Healthy Kids. While the learning around the recipes was different, both classes made Gluten Free Apple Pie Crepes; because who doesn't love apple pie and crepes? It IS apple season! This recipe is great for both a luxurious breakfast as well as a delicious dessert. We used gluten free flour because all our classes are always gluten and nut free, but you could use regular flour. You could also try oat flour for the crepes which I think would be really tasty with the apple pie filling.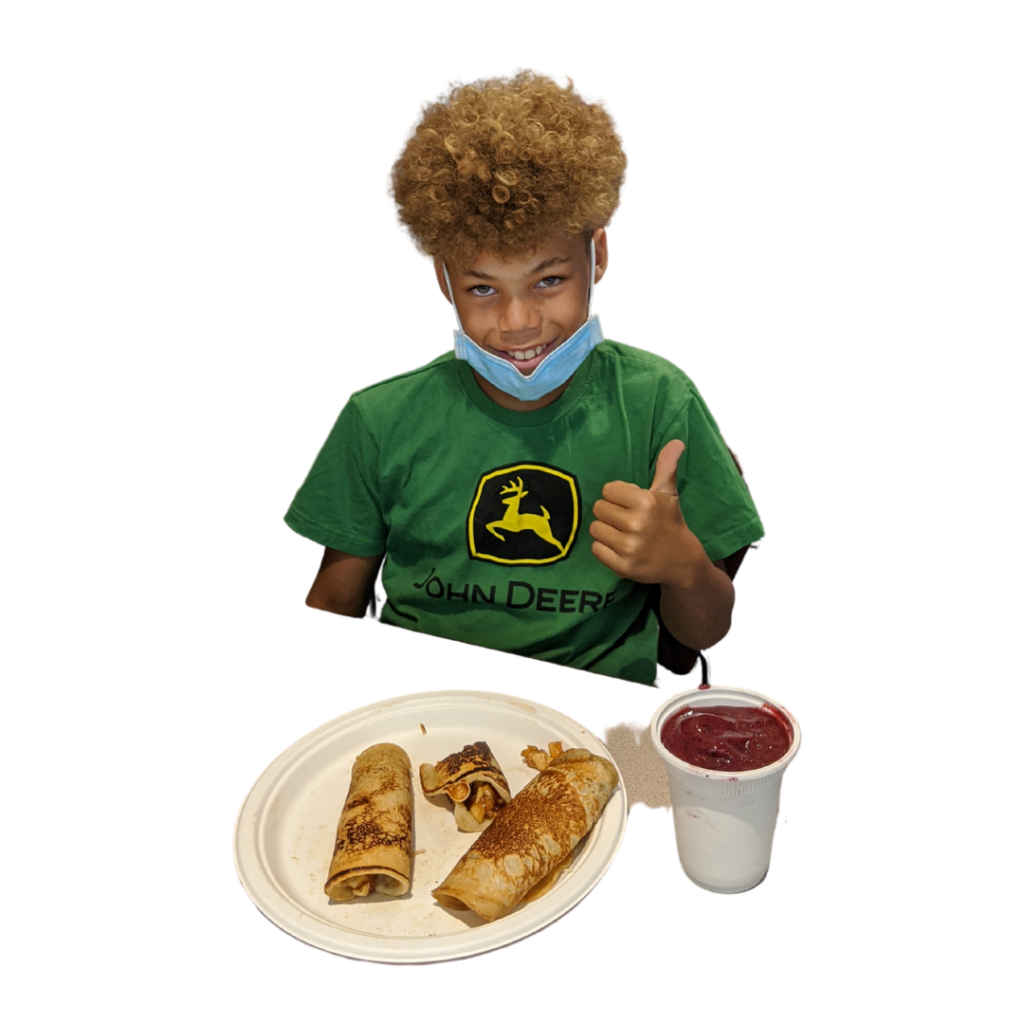 Choosing The Right Apples
While our Jr Chefs focused on culinary and nutrition skills, our Growing Healthy Kids (GHK) focused on apple tastings. Did you know that worldwide there are over 7500 varieties of apples? Isn't that wild? Here in the US, we have about 2500 varieties. Find more fun facts about apples here. Choosing the right apple for your recipe comes down to texture and sweetness. Our GHK class tasted 15 varieties and found Gala was the sweetest and Granny Smith was the most tart in their tasting. They found that Macintosh was the softest and both Honey Crisp and Granny Smith had the firmest textures. When you are making a dessert, the sweeter the apple, the less sugar necessary – so look for the sweetest varieties. When making an apple sauce or other soft textured food from dessert, look for a softer apple like the Macintosh. If you are baking a pie (or Apple Pie Crepes) look for a firmer texture that will hold up to the heat.
Conversation Starters
This Foodie Friday, lets have a conversation about the changing leaves. Change is really difficult for most people. Being uncomfortable with the uncertainty of what lies ahead and feeling like things are out of your control because it is uncharted territory can be anxiety producing and cause us to resort to unhealthy coping mechanisms. Yet when we see the leaves changing, we are struck with the beauty in that transition. So this week's conversation starter is:
"What if I could view changes in my life the same way I view the changing leaves in the Fall? How would that alter my perspective if I was looking for the beauty rather than the loss or uncertainty? Could that change in perspective ultimately change the outcome?
We would love to hear your thoughts on that conversation starter! I know for myself, when I can see the beauty in the moment, I am better able to see the opportunities for growth and betterment. In a time when so much is changing, and there is so much uncertainty – the "leaves" I have found the most beautiful is the time and space spent with loved ones without distraction and a restructuring of my life to put those priorities at the top permanently.
Enjoy the beautiful Fall weekend – Can't wait to hear your feedback on the recipe and thoughts on the conversation starter!
With Love & Gratitude,
AnaAlicia
---