Radicle Thursday; Jalyn Brown with Education Unlimited, Inc
This Radicle Thursday, our From The Ground UP alumni, Bella and Kenya, are talking to Jalyn Brown; the founder of Education Unlimited, Inc. What an inspiring conversation about how we can each make a difference in our communities when we feel something isn't right. Age doesn't matter. Each of us has the power to do small (or big) things that move the needle towards a more equitable and just world.
In All Honesty…
Ok, I'm gonna get real here. I honestly listened to Kenya and Bella talk over the summer as they discussed an idea for a podcast. I honestly just thought it would be a passing idea. After all, they had both graduated high school and were no longer official From The Ground UP members. They had crossed the threshold to alumni. They were college bound, and freshman year of college is overwhelming even when there isn't a global pandemic! But the idea kept surfacing. At the same time I began noticing the decline in mental health in the people around me, and even in myself. Cutting back on our programming really took a toll on me. When I reflected on why, I realized it was because I was no longer getting my weekly (or more) doses of hope. Young people bring so much hope with their passion and ideas. It got me thinking that maybe the podcast is exactly what everyone needs right now. It is an outlet for our alumni and current leaders to use their voice, while also providing the world with that extra shot of hope they need.
This Week's Dose of Hope
This week, when Bella and Kenya interviewed Jalyn for Radicle Thursday, I heard a group of young people that have the energy, will, passion, and ability to change the world for the better. Listening to them dissect the complex issues of education inequities and the intersection of race and class as well as how food access is interwoven into the complexities will make you realize that the future is bright. Jalyn and her work with Education Unlimited, Inc will most certainly inspire you. May their bright light make your heart glow with hope the way it does mine.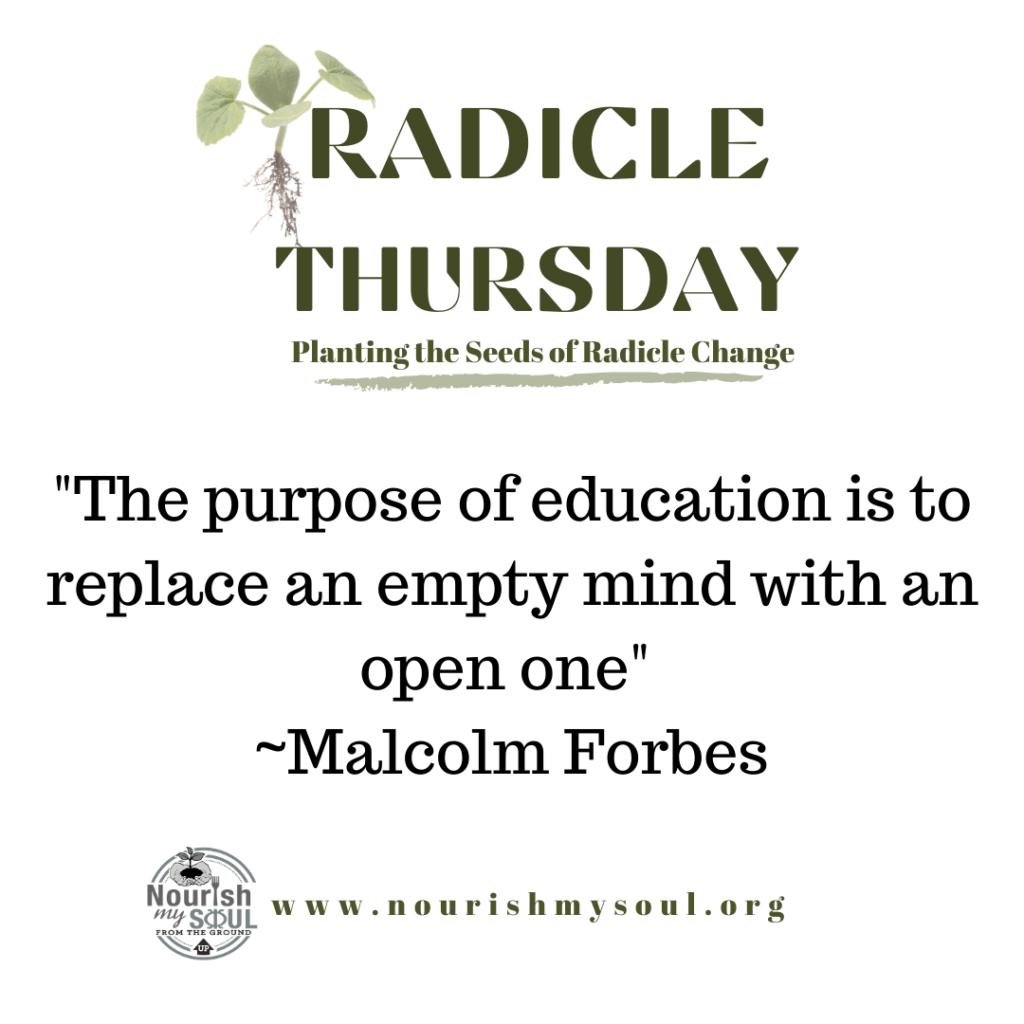 Let us know what you think and PLEASE, support them by liking them on Instagram, subscribing to the YouTube channel, and SHARING it with your friends and family!
With Love & Gratitude,
AnaAlicia
P.S. Did you catch Bella and Kenya's Radicle Thursday last week? If not, catch it here
---