Thai Sweet Potato Soup – Foodie Friday
Welcome to our very first Foodie Friday! Woohooo!! TGIF! Can't think of a better way to celebrate Friday than with an awesome meal. When I think of my favorite meals, Thai Sweet Potato Soup always comes out on top. So I wanted to kick it off by sharing one of my favorites, which also happens to be a Jr Chef & Community Cuisine favorite as well!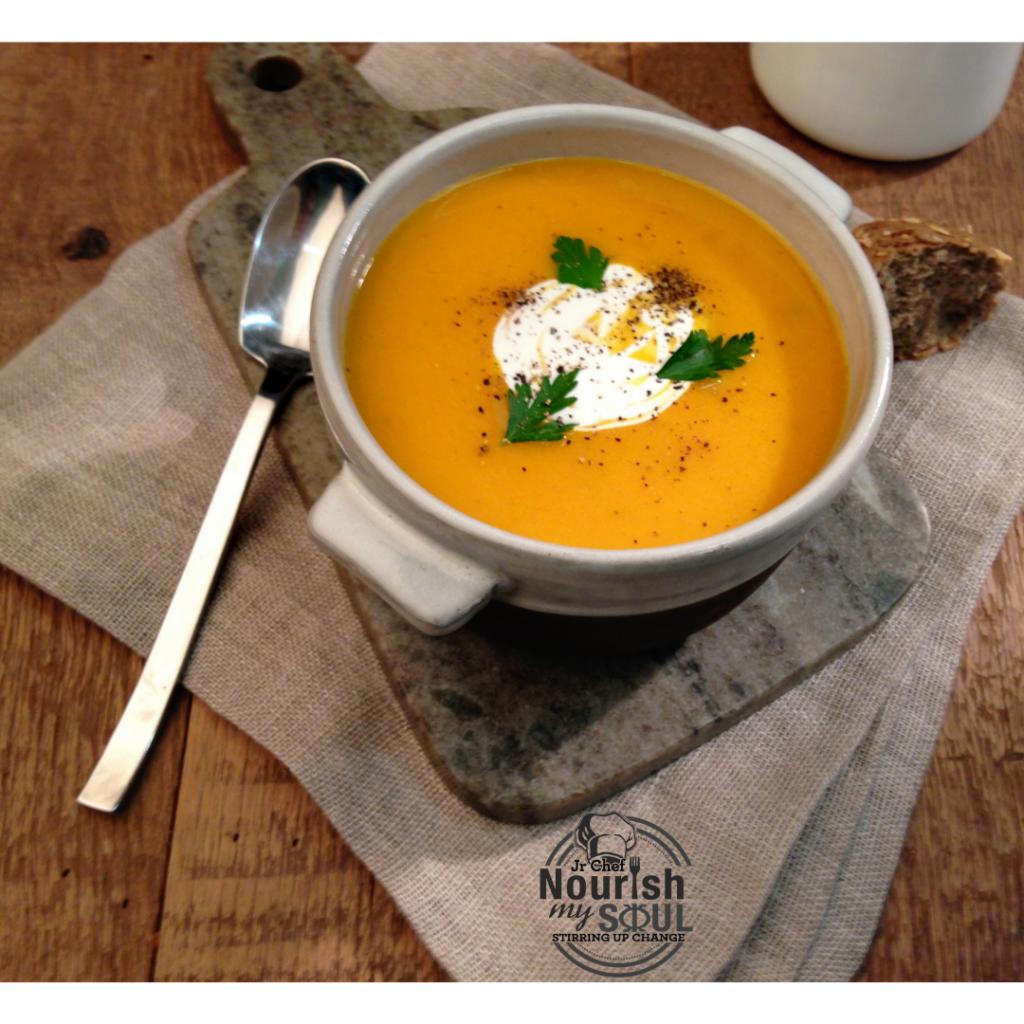 Not only is the Thai Sweet Potato Soup incredibly delicious, but it is also vegan & gluten free (Making it appropriate for meals to serve multiple food accommodations) AND best of all? You can be sitting down to eat it in less than 30 minutes! This is one of those recipes that I use to demonstrate to people how you can have a flavorful, hearty, incredibly healthy meal in less time than going to a fast food restaurant, ordering, and getting your food. Yes, you have to do the work, but it's not very hard – I promise! And it is something that you can do together as a family. The more you cook together, the more capable your children will be to step in and make dinner at times that you are unable. (Think long game here parents!)
Some other reasons why Thai Sweet Potato Soup is my favorite:
Sweet Potatoes are a nutrient dense Super Food
Sweet Potatoes provide the most bioavailable nutrients when combined with a fat….Guess what? Coconut Milk provides you with a healthy fat!! Not only will this allow your body to absorb more nutrients from the sweet potato, but it also helps keep you feeling full, promotes brain health, and makes it super delicious!
Ginger – Yet another nutrient dense food that works overtime keeping your immune system in tip top shape!
Red Curry Paste – FLAVOR!! Wow. Just wow. You've got to try it if you haven't already.
Easy way to support your farmer. Sweet potatoes are typically an easy crop for your local farmer to grow in multiple varieties. Please support your local farmer by buying your sweet potatoes directly from them – it is easy and won't cost you anymore (Might even be cheaper!) Inquire with your farmer to find out if they have any Fall or Winter shares available with a CSA (Community Supported Agriculture) program. Chances are you will get access to a lot of fresh, highly nutritious sweet potatoes that were grown locally, with love, with your health in mind.
I am looking forward to seeing your pictures and comments about this Foodie Friday recipe! Talk to you again on Monday ~ Enjoy your weekend!
With Love and Gratitude,
AnaAlicia
---