Foodie Friday; Pumpkin Pie Cupcake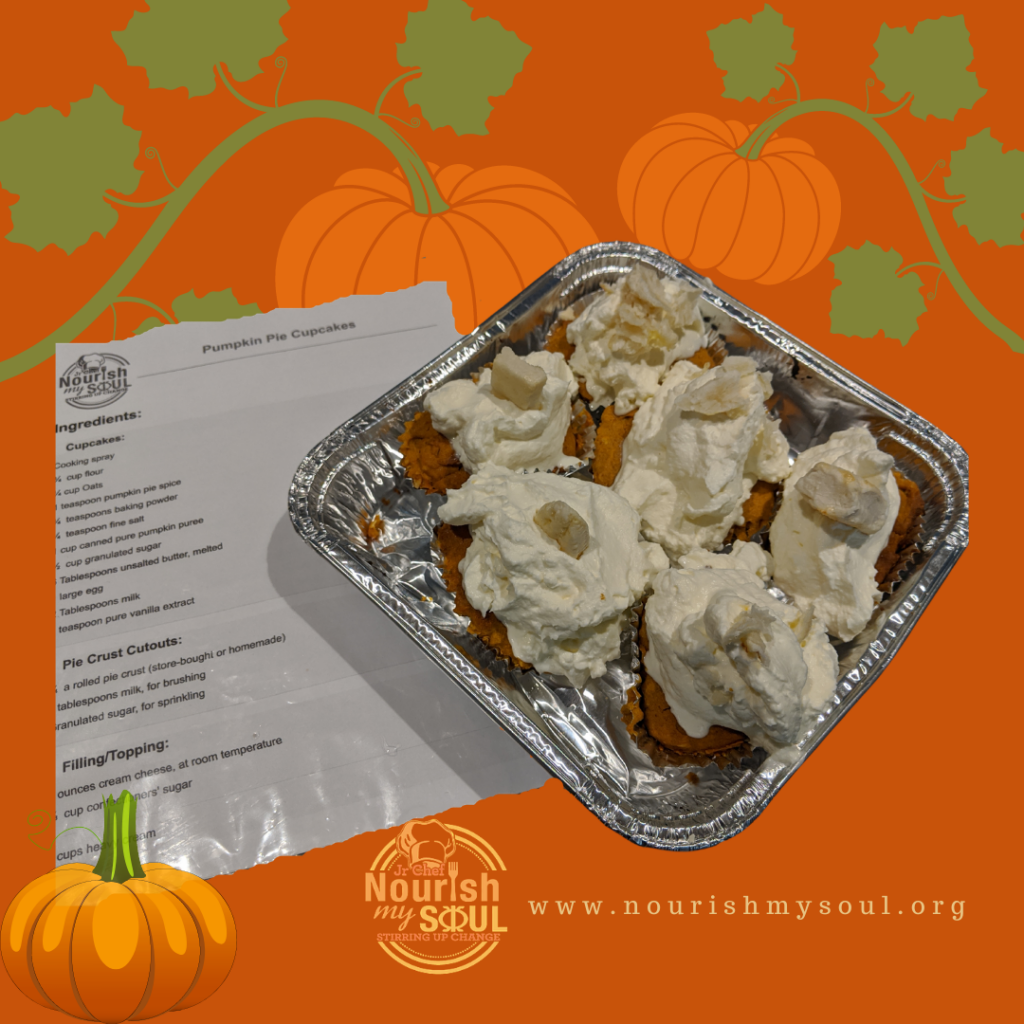 We made it to Friday! Less that one week until Thanksgiving, the biggest food holiday of the year,. This is going to be a tough year for so many of us, being unable to gather with loved ones in person. (If you are struggling, listen in to our Radicle Thursday Podcast from yesterday or our Mindful Monday) Because of that, we thought we would share this Pumpkin Pie Cupcake recipe. Perhaps isn't the most nutritious recipe, but will certainly bring you a little bit of joy one bite at a time. Especially if you struggle to decide between pumpkin pie and pumpkin cake – this Pumpkin Pie Cupcake recipe feels like you're having both! I challenged our Jr Chefs with this multi-step recipe this week to see if they could follow along and juggle multiple parts at the same time and still finish before class was over. They were successful! They really enjoyed the challenge – even beating the whipped cream by hand!
Pumpkin Pie Cupcake Allergy Friendly Ingredient Substitutions
This recipe made 6 full size Pumpkin Pie Cupcakes, so feel free to adjust the recipe accordingly. We also used King Arthur gluten free flour and Bob's Red Mill gluten free oats and it worked great! Some have asked about a dairy free version. While I haven't tried it, I would likely adjust it by using Earth's Balance instead of butter, Oat milk instead of milk, So Delicious Cocowhip instead of the heavy cream, and Violife Cream cheese for a dairy free cream cheese. If you try this, let me know how it comes out!
This holiday season will likely bring some unpleasant emotions as we lovingly keep each other safe by staying home; Please share with us what your go to comfort food will be to help ease those sorrows. (mine will be pie…lots of pie!)
With Love & Gratitude,
AnaAlicia
---