Foodie Friday; Rustic Ground Corn Bread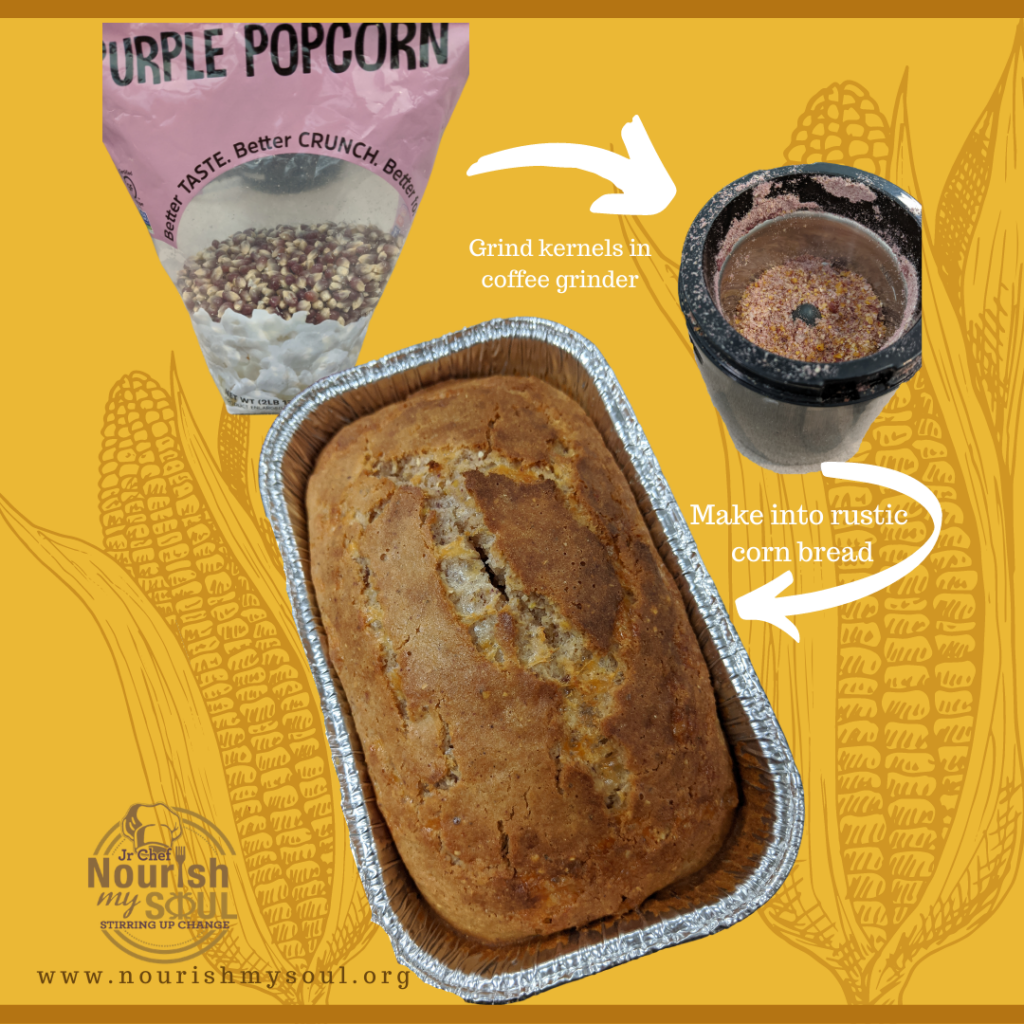 This Foodie Friday I thought you might enjoy making a rustic corn bread. Our Growing Healthy Kids class made it last night and had a blast! This class of 6-9 year olds is learning all about methods we use to preserve food over the winter and then how we use it to make meals. This week we talked about corn; they loved seeing all the colors of corn we grow – who knew that corn isn't just yellow?! Our youngest chefs got to see how we dry corn to be stored and used for a long time. They then ground those dried kernels into a corn meal and used it to make corn bread. Bonus treat – while the bread was in the oven (and they were finished with their dishes) we popped some of the extra kernels and snacked on popcorn!
Grinding The Corn
We are fortunate to live in a time where we have tools so we no longer need to grind corn by hand (although that would keep the kids busy for quite some time!) You can use a high powered blender like the Vitamix, a dream kitchen tool that helps you make so much more than smoothies! Vitamix is expensive, but a worthy investment that will come back to you if you utilize it fully. My Vitamix has saved me tons of money in the long run because I put it to work grinding my own gluten free flours. Put it on your Christmas list if you don't already own one!
Looking for a budget friendly option? Try a coffee grinder! This is what our class used and it worked great. Fun fact – your coffee grinder can also grind spices!
Get Creative
The possibilities are endless with what you can add to your corn bread to make it your own. Several chefs in our class added green peppers (They love using their knives!) while others grated some cheddar cheese to mix in. Looking for a kick? Add jalapenos or red pepper flakes. Maybe you'd rather experiment with sweeter flavors? Try adding some chopped apples! If you try something different, please share it with us and let us know how it turned out – we are always looking for fun new ideas!
Enjoy your weekend – stay safe & warm my friends!
With Love & Gratitude,
AnaAlicia
---