Foodie Friday; Gingerbread Waffles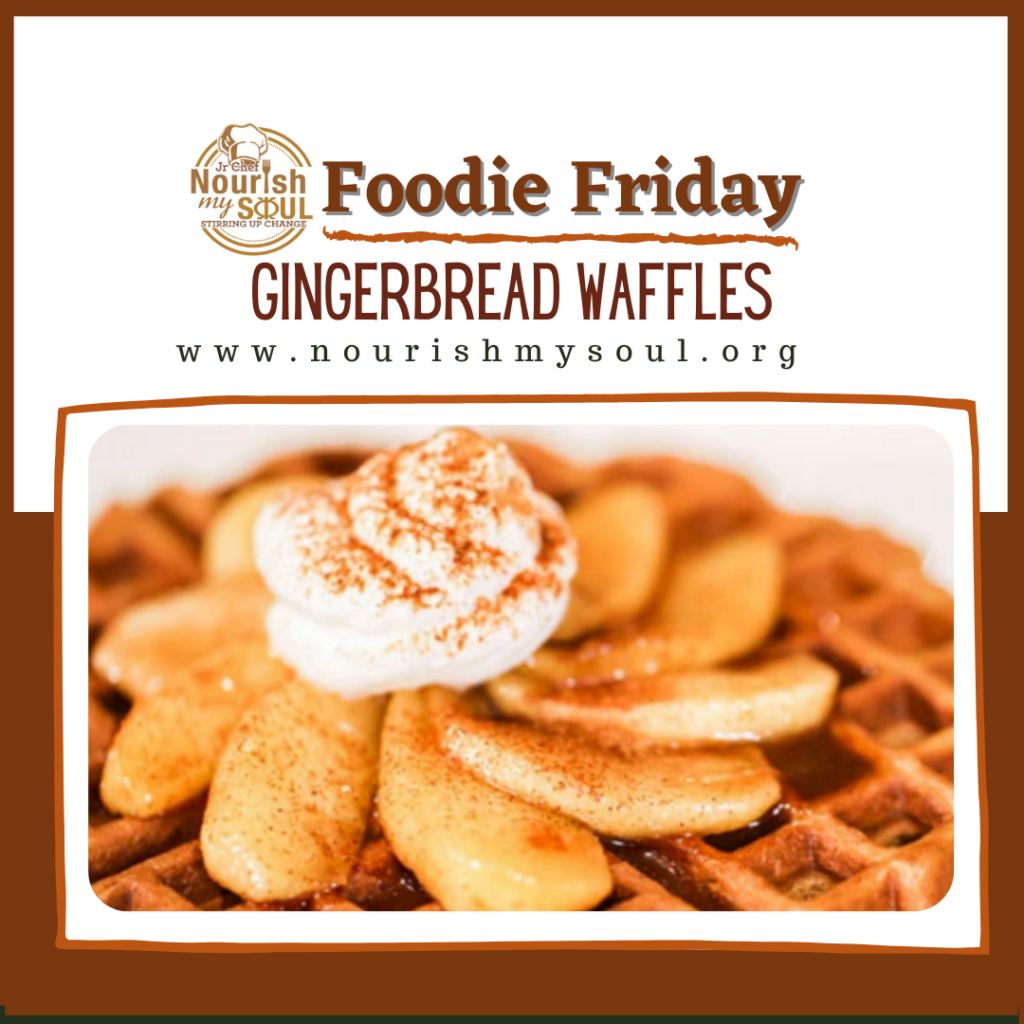 Hoping this doesn't spoil the element of surprise for our Growing Healthy Kids class….Due to a wonderfully huge snow storm here in New England, our class was postponed until next week. I had intended to make this Gingerbread Waffles recipe with them yesterday and share their pictures with you here today. I did however test them out myself, just to be sure before sharing them with you…OMG – YUM! For me, it was all the yumminess of this time of year on my plate for a delicious lazy breakfast watching the snow fall. (And filling up before tackling the un-digging from almost 2 feet of snow!)
Yummy Topping Ideas
I had some extra pears that needed using, and it worked perfectly with the flavors of the Gingerbread Waffle! I peeled and sliced the pears, put them in a sauce pan with some cinnamon, nutmeg, ginger, and a pat of butter and let it heat up until fragrant and soft. While I was waiting for that, I whipped up some whipping cream with maple syrup, cinnamon, and vanilla. I absolutely loved the pairing (no pun intended, lol) of Gingerbread Waffles, Spiced Pears, and Maple Whipped Cream!!
Cooking The Waffles
Any waffle iron will do. At home, I use the Presto Flip waffle maker. We previously used this model for our classes as well, so I can attest to it withstanding years of use from children. Now that our classes are socially distancing, I use the Dash Mini Waffle Maker and each chef has their own. These mini waffle makers work surprisingly well and make a nice size individual serving. They make a great gift for that aspiring chef of yours (hint hint!) And they come in so many fun colors/patterns!! I gifted these last year in a large mixing bowl with waffle mix, real maple syrup, wooden spoon, apron, and measuring cups – It was a hit! Great last minute gift idea if you need it.
If you give this recipe a try, please let me know how you like it – and always share your pictures!! (We love food pics!) *Don't spill the beans with our Growing Healthy Kids chefs!
With Love & Gratitude,
AnaAlicia
---