Foodie Friday; Thai Spaghetti Squash
January is Comfort Food theme for our Foodie Fridays! So many of us find pasta a comfort food, but too much pasta isn't always a great thing. This recipe allows you to feel like you are having pasta, but are actually taking in extra nutrients from a vegetable source! Win Win!! And with Thai flavors to boot? OH YA – COMFORT FOOD!!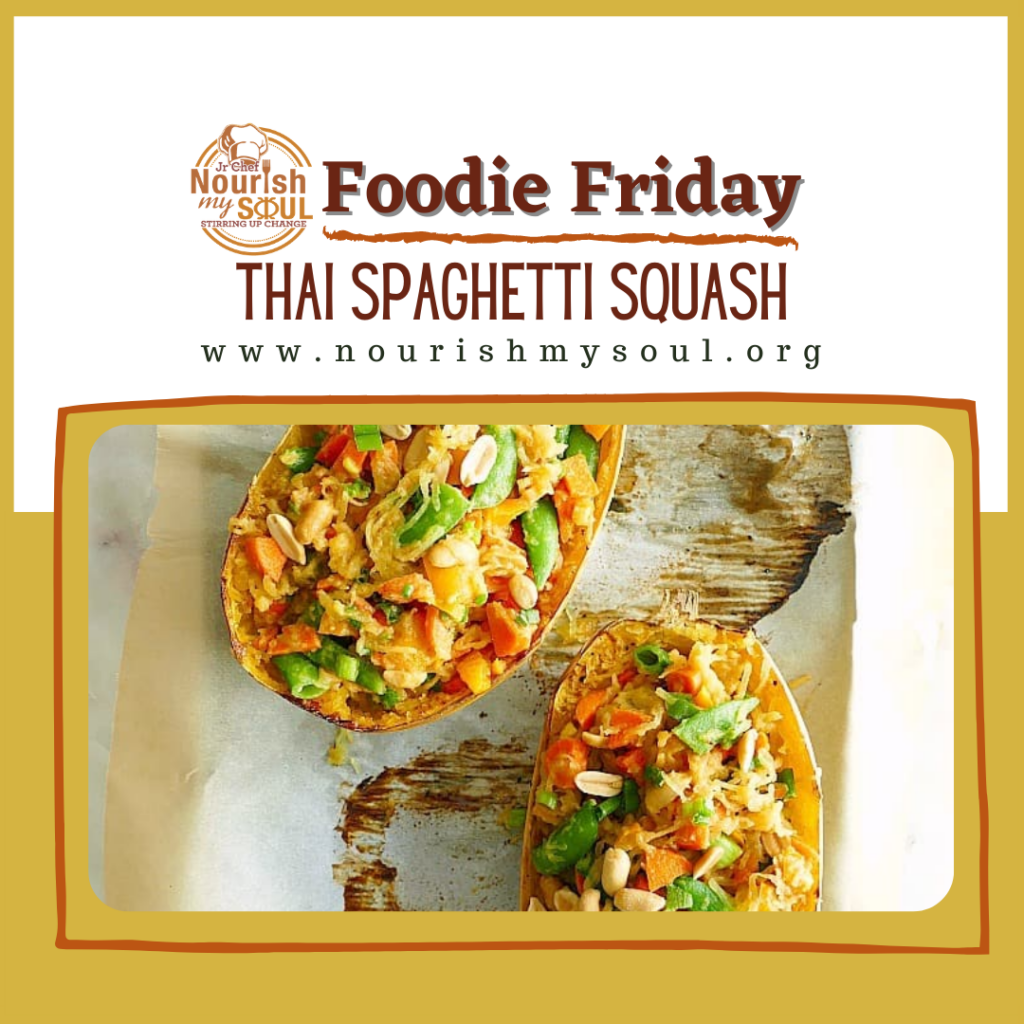 January isn't over, there is still time to go over to our website and participate in our January Foodie Friday classes. The theme is Comfort Food – how do we make them healthy while still feeling like a big giant from our insides? You will find practical tips and ideas to use in all your favorite comfort food recipes! And being in the class gets you access to our Potluck dinner on the last Friday of the month! ALL FREE! You Can register HERE
Download the recipe here
Thai Spaghetti Squash Recipe:
   Thai Spaghetti Squash
Ingredients:
1 medium spaghetti squash
cooking spray
1 cup dry roasted sunbutter (or peanut butter if no allergies)
1/3 cup water
2 cloves garlic, minced
1/2 tsp. soy sauce
2 tsp. sesame oil
1 Tbsp agave nectar (or honey)
2 Tbsp. curry sauce
2 Tbsp. lime juice
1/2 tsp. cayenne pepper
1/3 cup coconut milk
Cilantro for garnish
Directions:
1. Cut squash in half and cook face down in sprayed baking dish for 40
minutes, or cook in microwave for 15 minutes until cooked through.
2. Place all remaining ingredients in a blender or food processor. Blend or
process until sauce is smooth. If you prefer a runnier sauce, add a
little more water or coconut milk.
3. Do a taste test, adding more soy sauce if not salty enough, or
more cayenne if not spicy enough. If too salty, add a squeeze of fresh lime
juice.
4. Scrape the squash out of the rind into a serving bowl. Pour sauce over the
Top, garnish with cilantro, and serve.
Enjoy!!
With Love & Gratitude,
AnaAlicia
---