Seed & Weed Wednesday; Hope Is Strong
Hope is what fills us right now, keeping us strong; the theme underpinning everything. Those who follow us on social media have seen that we even adopted a Hubbard Squash named Hope from Oxen Hill Farm. Oxen Hill Farm is doing this crazy, fun, and hope-filled campaign asking adopted families to chronicle the adventures of their squash using the hashtag #OxenHillFarmHubbardsForCupboards. For each hashtag, they are donating 20lbs of sweet potatoes to local food pantries such as Foodshare. This gives us hope – seeing the strength of the partnership between farmer, nonprofit, and community members while doing something so silly & downright fun! So many families don't know where there next meal will come from right now and communities are suffering. Now is the time for us to pull together and care for one another, sharing and doing what we can.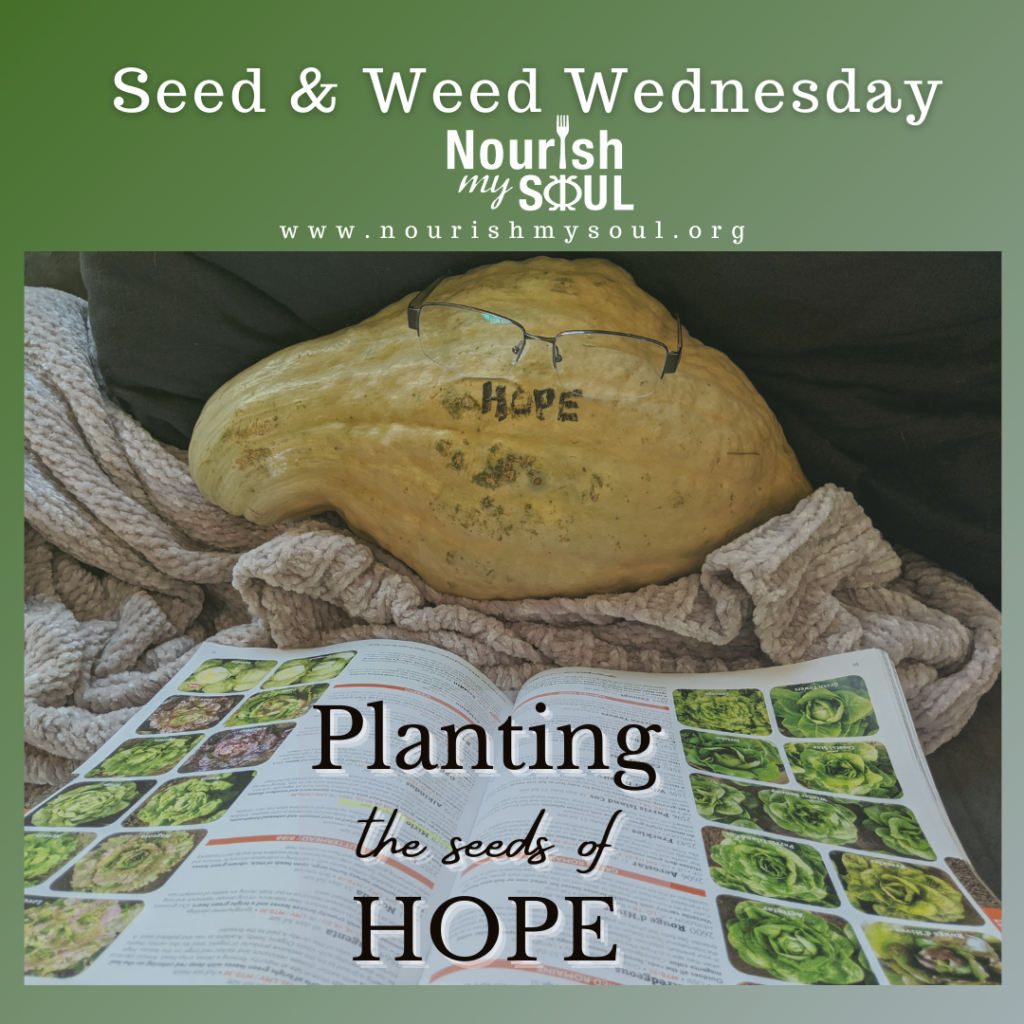 Seeds Of Hope
Every year at this time, we open our beautiful seed catalogues and dream of the summer. We plan out our gardens, anticipating a bountiful crop of colorful vegetables and fruits. So much hope is wrapped up in each seed that we bury into the dirt. We water, adjust grow lights and temperatures, and wait in anticipation as the radicle begins to take hold. Hope is the undercurrent for human resilience. We need hope for a better future as we drag ourselves through the difficult times. Many of us had recently begun to lose hope as the pandemic surges on, taking so many lives while turning every life upside down through a path of destruction. Maybe it was the election of our first female Vice President, or the introduction of a vaccine, the promise of a new year, or perhaps even just the move towards longer days – whatever the reasons, we are finding a renewed sense of hope that energizes us to plan for a future. We are choosing our seeds that will help us feed our neighbors, to keep them nourished & healthy for another year. These seeds remind us that life is a cycle and we are getting another chance to grow & share in abundance.
Shared Learning
While we are in the stages of choosing our seeds, we are also aware that many of you would love to learn more about growing your own food at home. Growing your own food is incredibly humbling and rewarding – and will be necessary as we each do our part to reduce food insecurity. Please join us in our new online university where we will host free lessons about starting your own garden in the coming months. Planting a garden is our way of keeping hope strong within us!
---